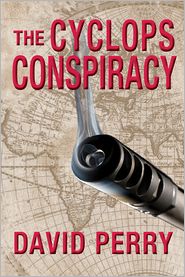 The Cyclops Conspiracy
is one of the best thrillers that I've read during the last few months. Its action moves at a cinematic pace and it easily takes hold of the reader's attention, an attention it never lets go.
On first sight there's nothing much going on in the world that the author invites us to enter; things look normal; extremely normal one might think. But as time goes by and as we turn one page after the other, things begin to change; or rather things start to become illuminated. So just under that picture of normalcy that we see at first, we soon come to discover a different one; one so bleak that's hard to believe.
It all begins with the death of a man called Thomas Pettigrew. Thomas was an old-style pharmacist, one of those people that loved their job a lot and cared for their customers just as much, and a sometimes successful businessman. His death comes as unwelcome news to everyone who ever met him. Among those people is Jason Rodgers, his once time protégée, who because of an unfortunate turn of events had to part ways with his mentor. Now, for the first time in years, he is back for the funeral, and before too long he comes to meet the only person he ever wanted to see there; Thomas' daughter Chrissie, an ex lover. That meeting leads him to a walk down memory lane, but at the same time opens up a portal back to his old world, as a woman named Lily Zanns, who now heads Thomas' pharmacy, offers him a job, which he gladly accepts. And it's exactly then that the plot begins to unfold.
As Jason finds himself once again in Chrissie's circle, he starts to feel kind of happy. The old feelings between seem to rise back to life and he really loves his new job. With the new job though come new responsibilities and soon enough, new meetings. A young, pretty and bright doctor called Jasmine Kader seems to crave for his attention, something which, because of his feelings for Chrissie, puts him in an awkward position. But, as he's soon to find out, that's the least of his problems; something seems to really stink in this new world of his, but he can't exactly say what. Probably there's a scum with some prescriptions going on; but is that all? Obviously not, otherwise there wouldn't be any hidden cameras in the store. Right? But why exactly are they there? And who knows about them? Well, the more he finds out, the more he'll start to think that the world he's entered is no more than an illusion. Nobody seems to be who he or she claims to be, and as the secret parts of the story will start to come to light, Jason and Chrissie will find themselves in the epicenter of a virtual cyclone, of a conspiracy that threatens to blow the whole world apart. Who is who and who does what? Who to trust? These are the main questions that they have to ask at some point or another. The answers are not so easy to come by, and when they do they are just as hard to comprehend.
In this book we once again read a story about some ordinary people, who find themselves in extraordinary situations and who somehow discover within them the necessary wealth of psychological stamina to endure all the ill fortune that life throws at them. The second half of the book is so fast-paced that it leaves the reader almost breathless, something that adds some points to the overall affect of the narration. If there's a weak point in this book I'd say it's the similes. The author obviously loves them a lot, but the reader maybe not so much. However, one should never forget that this is the author's first book, and as such it comes very close to genre perfection. 9/10.