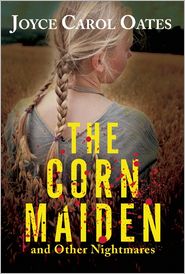 Melancholy and agony are the two prevalent elements in this
short story collection
that comes out in America next week; agony about what tomorrow is going to bring, and melancholy for everything that the protagonists are going or have gone through and about their lives' ever repeating deadlocks.
The title story, which has the size of a novella, is I'd dare say the best by far. Reading through it we come to find out about the tragic events that take place in the life of a desperate woman, but we are also given a chance to have a good look into the darkness of some young souls. It all begins when eleven year old Marissa goes missing. The first suspect is a young professor, but soon enough he's cleared since he has an alibi. Leah, the girl's mother thinks that he's innocent too and somehow, little by little she starts getting close to him. As they talk things over they come to think that there's a big conspiracy taking place behind their backs. And a conspiracy there is. However, when the drama reaches its peak things take an unexpected turn which leads in a crude and ironical way to the fulfillment of somebody's dream.
Brad Shiftke and Stacey Lynn, a mysterious man and a young woman, star in Beersheba. Brad lives in Carthage, New York, where he one day meets Stacey who comes to visit. As it turns out she's his second wife's daughter. According to her he's to blame for her mother's death. Now she's here to seek revenge.
Jessica is a little girl that doesn't feel so well these days. She and her family are in a house on the mountains, a place she loves, but this time she cannot really enjoy her stay there. And that's only because the baby is with them; her newborn sister that draws all the attention on her and makes her jealous. Only one creature can really understand how she feels and that is none other than a gray cat. Nobody Knows My Name is the title of the story.
The life stories of two brothers Edgar and Edward is what we come to read in Fossil-Figures. The two of them couldn't be any different. The one is like a force of nature: strong, arrogant, willing to do anything to reach his goals, while the other is quiet, good-hearted, capable of doing great things, but unable to step outside, into the greedy and wild world where his brother thrives. As it is bound to happen they will take different paths in life, but one day they will meet again and then things will look completely different from the time their journey begun.
A couple of brothers that somehow remind us of the ones above are also the protagonists in Death-Cup. Lyle and Alastor meet for the first time in many years a few days before the funeral of their rich uncle Gardner, and the first has no doubt whatsoever that his brother came back for the widow's money. However he'll do nothing to stop him from fulfilling his plans. Their relationship looks like a stretched thread that's bound to break, but when that happens it doesn't happen in the way that one would expect it to.
In Helping Hands we read the story of a woman whose husband has died only recently and who now tries to start a new life. However, to do that she first has to get rid of a lot of his things; things that are of no use anymore, but which also never stop reminding her of him. So she visits a war veterans' charity to make a donation and it's exactly there that she meets a man that brings back to life the woman in her.
A Hole in the Hands, the final story in this collection, is a story about vanity. Lucas Brede is a cosmetic surgeon that lately doesn't do so well. He has money troubles and his business is slowing down and thus he's desperate. As things start to get from bad to worse, he reaches a point where he'd do just about anything to earn some money, even if it goes against his personal ethics. A vain woman gives him the opportunity to do just that, but things do not turn exactly right and now he has to live with the consequences of his actions.
This is a great collection of stories by one of the best American authors, which every friend of the genre can surely enjoy. It comes out in the US on the 1st of November and in Europe two weeks later.