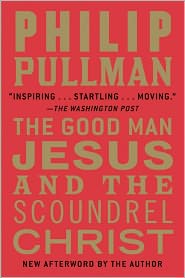 OK, here it goes! I really looked forward to reading
this book
and when I finally did I felt nothing more than disappointed; almost cheated. I don't know; maybe I got carried away by the title and expected too much, but in whatever way you put it I didn't expect so little. There's one thing that I know for sure: this is the worst work by the author that I've ever read. That's maybe because it was an order-to-write kind of book, or perhaps because he didn't bother to work too hard for it, or just maybe because it's a bit too mild for my taste.
When I've first read the title and some of the reviews in the British press I thought: this sounds fun. It really did, and it kind of is, but there's nothing more to it. If someone picks up this book thinking that he or she's about to read a heretical version of the Bible, he or she will be disappointed. Pullman just picks bits and pieces of the scriptures and rewrites them in his own way; making them somewhat more easy to understand for the reader. It starts with a bang (This is the story of Jesus and his brother Christ), but there's nothing much to follow that grand opening. The author writes briefly about the birth and the early years of the twins and points out that Christ, the intellectual, used to get Jesus out of trouble every now and then, simply by quoting the Old Testament. He also says that Jesus was the prodigal son of the story, before taking a short dive into his miraculous but controversial life. As it looks the guy wasn't so popular in Nazareth because he had the nerve to go and perform miracles… elsewhere, while his relation with the priests was not exactly the best as he tended to liken them with the fool in the psalms. By the way, just in case you were wondering, it was Christ and not Jesus who met Mary Magdalene, so maybe her soul is condemned to rot in hell after all. With this and that, time just flies by, it really does, and soon enough Jesus is arrested, put to trial, condemned, crucified and comes back to life again. And that's about it.
I don't know whether the good author had a word count limit, as the book belongs to a re-imagined myths series, but I can't shake the feeling that this work is far from complete; or to say it boldly, it gives me the impression of a one-night-stand. If any of you would like to read some really subversive or even provocative versions of the Gospels you should look elsewhere; at the work of the great Greek writer Nikos Kazantzakis, of the recently deceased Jose Saramago, and Robert Graves. There you can find all the knowledge and the philosophy behind the popcorn literature of the likes of Dan Brown and much more.
It's such a pity that a writer of Pullman's caliber couldn't make things work in this one but, thank Caiaphas and no matter what, we can just keep enjoying his fabulous forays into the worlds of fantasy.