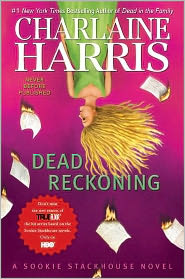 This book I've read more out of curiosity than real interest, since its heroine is Sookie Stackhouse, famous from the cult vampire series
True Blood
, which I really enjoy watching. I'm saying out of curiosity because, with the exception of Bram Stocker's Dracula, I'd say that I'm not really a fan of the specific genre of literature.
Anyway, in
Dead Reckoning
(the 11th of the series if I'm not mistaken) we find Sookie, who has recently discovered that she's part fairy, living with her great-uncle Dermot, who looks a lot like her brother Jason, and her cousin Claude, both of whom have more fairy blood in them that she does. Their symbiosis is not exactly perfect, not even close to that, as Claude quite often manages to get on her nerves, while Dermot doesn't really try to help her put things right. However the troubles she faces at home are only trivial if compared with those she has to put up with at work, since some people try to kill her not just once but twice, while her very good friend and boss, Sam, who's a shape shifter, also seems to be having a hard time to make ends meets. And as if that's not enough, Victor, Eric's, her new boyfriend's that is, worst enemy is appointed regent of the vampires in their county. Victor seems determined to provoke Eric in any way possible and thus draw him into a fight that he's certain to win. The latter, who knows well who his enemy is and how he thinks, will be left with no choice but to ask for the help of Sookie and others, in order to strike first. Among them will be Sookie's ex boyfriend, Bill.
In the meantime, in the now famous, or rather infamous, city of Bon Temps, a lot of things start to change as some new species of creatures arrive at the scene; like goblins, different kinds of werewolves, elves etc.
Each passing day brings along with it a surprise, most of the time bad, for Sookie, who though, after all she's already been through, doesn't seem to be scared of anything or anyone anymore. With her characteristic cool and furious manner, she seems to travel lightly from one place to the next, trying to make good deeds, to help her friends out or even give them a wakeup call when they lose their way, all the time being desperately in love with Eric, someone who has eyes for no other woman.
Some of the episodes here are laugh-out-loud funny, quite a few are dramatic, but either way they are all fun to read. The author is only interested in entertaining the reader and she simply does that. Now, if you were to ask me which I like the best, the TV series or the book, I'd answer without hesitating for a moment, the first. Let us not forget that behind it is the creator of one of the best series ever made, the fabulous
Six Feet Under
. But at the same time, let's not forget, if it wasn't for the books there would be no Sookie, and without Sookie, well…
This is a book that can be read in one sitting and I'm sure the vampire or, specifically, the Sookie fans will enjoy it.