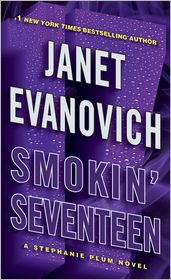 Smokin' Seventeen
is one of those books that one enjoys not so much for their plot and action, but for their humor. The author seems to be interested more than anything to entertain the reader and she does that in a splendid way, as she leads her main character Stephanie Plum from one hilarious situation to the next.
Stephanie works as a bail bonds officer, or rather enforcer, in her cousin Vinnie's office in Trenton, New Jersey. Her job is to arrest those whom Vinnie bailed out of jail, but somehow failed to meet their obligations. Even though she sounds a bit angry and whiny every now and then, it's more than obvious that her job suits her fine. She just loves the action, the nonstop movement, the fact that things over there never get boring. But there comes one day, when they turn out to be a little more than interesting, as just behind the "bus" where the business office is housed, just for a little while, the corpse of a member of mafia is discovered. And that will be only the fist, as another few are to follow. These facts will somehow convince Stephanie that probably she's a future target as well; but, why? That is the question.
As expected the answer will not come easily. Besides the woman has absolutely no free time to look for it, since she's busy as ever, as she has two arrests to make. The first one has to do with an old man, who's more than convinced that he's a vampire, and is scared to death of daylight, and the second of a circus bear that was given to Vinnie as a guarantee, and which has somehow managed to escape.
And as if that's not enough Stephanie has to cope with a few things in her personal, or rather love life as well, as she thinks that it's just about time for her to decide, which of the men in her life she would like to take as her permanent partner: Will it be Morelli, the cop, her official lover, or Ranger, the private security guy with whom she feels better when in bed? Or how about following her dear mother's advice and pursue a new relationship with an attractive man from the past, an ex athlete and seemingly great guy, who's pretty hot as well, and apparently knows his way around the kitchen?
As one can surely understand her life is nothing but easy. However she manages to live it day by day and handle any problems the moment they arise. The thing is though that during the last few days everything seems to be going wrong for her. Could it be that Morelli's grandma's curse really worked or should she just blame herself for what is happening? This question will follow her every step from the very beginning to the inescapable end of this story, and as long as the answer eludes her she'll never manage to get some peace of mind.
However difficult life seems to be for her though, its depiction is more than enjoyable to the reader, since while reading about it he or she'll come face to face with some hilarious characters, like her sidekick Lula, who can eat a mountain for breakfast, while some of the scenes are simply laugh-out-loud funny. As for the killer, one just has to put two and two together to discover who it is, but that doesn't matter much, because by then, he or she will simply enjoy a beautiful ride and come out of it with a big smile.