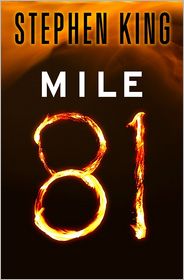 I've always considered the short, or maybe the not that long, writings of Stephen King as his best. No matter how much I enjoy his novels some of them I find kind of heavy, if you understand what I mean. But of course that doesn't apply here since
Mile 81
is nothing more than a long short story.
It all begins one fine day when ten year old Pete Simmons decides to live a big adventure. So he runs away from home heading for the deserted rest area at Mile 81 on a highway in Maine. Pete is a very impressionable kid that imagines himself as an adventurer and an explorer, so he sets off to discover the dark secrets hidden in the abandoned fast-food restaurant that's situated there. The most exciting thing he comes up with though is a half-finished bottle of vodka and being the big boy that he is he decides to take a sip, and another, and another. As one would expect he gets drunk soon enough and since he doesn't want to go back home like that he thinks it best to sleep it off. Thus he doesn't realize that right outside very strange things are happening. First there comes a mud-covered station wagon, even though there hasn't been any rain in the area for ages. The driver door opens, but inside there's nobody to be seen. Right behind it arrives to park an insurance guy and part-time preacher who wants to be a Good Samaritan and soon enough a cowgirl, with her horse and everything, and a family follow suit. And poor Pete is still asleep. Well, evil lurks and it's maybe up to him to save the day; and if he's lucky enough he may even live to tell (especially to his know-it-all brother) the story of an adventure unlike any other. Will he manage to do that and how? Let's not forget that he's no more than a little boy.
Mile 81 is a finely-crafted story which will surely offer some reading pleasure to the fans of the good author. At the end of it one can also read an excerpt from 11.22.63., King's next novel, where a man travels back in time in order to intervene and save the life of JFK. That sure sounds interesting.