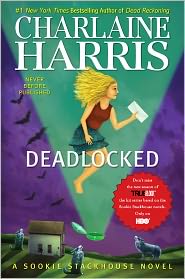 The truth is that I wasn't planning on reading this book. And it's also true that I didn't really expect to like it. But I did. And I did.
Deadlocked
is the 12th volume featuring the now famous Sookie Stackhouse and her band of merry or not so merry creatures. Sookie is one of those heroines for whom the reader, whether he likes it or not, just has to feel some kind of sympathy or even empathy; if not for anything else for all the bad things that happen to her and for her struggles to offer a better life to the ones she holds dear.
What happens in this book? Well, it all begins when Felipe de Castro, the vampire king of Louisiana, decides to pay a visit to Eric Northman. Eric is, to put it in a Games of Thrones terminology, the hand of the king in the Bon Temps region, and he's suspected of foul play. The two men don't really like each other, but when it comes to official affairs they do follow protocol: first they party and then they get down to business.
Things though don't go as planned, as the cops show up and break the party. They've received an anonymous call that there was the dead body of a young woman in the yard and that just proved to be the truth. The main suspect for the crime is none other than Eric who's fed on the woman a few minutes earlier.
Now Sookie, who is Eric's lover, has to work with Bill, her ex-lover and sheriff of Area Five, to prove that he is innocent. But that will not be such an easy thing to do, since the word trouble is almost synonymous with Sookie. Thus, at the same time she has to investigate a murder, solve the differences between some of her close relatives who happen to be fairies, take care of her friend Tara who's pregnant and also try and protect her good friend Sam from his psycho girlfriend Jannalyn.
Murder, mayhem, betrayal, chaos; these words just mean business as usual in Sookie's world and despite all the unpleasant surprises she tries hard to make things work just the right way. But will she make it?
I have to say that this novel is much better than the one that preceded it, which for some reason made me think that maybe it was just about time for this heroine to retire. The author by giving the book at hand a light touch of normal world mystery, which reminded this reader of a police procedural, has managed to breathe new life into the series. Some fans though may consider it as a departure from or a betrayal of the well-established universe they have come to know and love.