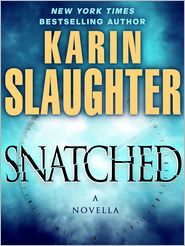 For quite some time now I refused to award a book a five star review because simply almost none of the new novels I've read this year so far deserved it. Well, my attitude changed when I was fortunate enough to get hold of this novella.
Snatched
seems to be just one of those special books where not a single word is out of place. And it's so beautifully written that it takes the reader's breath away. No I'm not talking about top shelf literary fiction here but for an absolutely thrilling read, with a great plot, well-crafted characters and quite a few surprises in the mix.
The main protagonist is special agent Will Trent, who's been assigned the duty to monitor the men's toilets in Atlanta Airport, as a form of punishment for not having had a haircut. He's been on the job for two weeks now and found it a complete bore. Something however is about to change.
What? Well, by a curious turn of events he'll find himself from one moment to the next in the epicenter of a kidnapping case. He'll overhear an exchange between a man and a six or seven year old girl and his instinct will raise the alarm. So, he'll approach them to take a look, and while his suspicions will be aroused even more, he'll do nothing to stand in their way, because apart from a gut feeling he has nothing else to show.
The events that will follow though will prove his instinct right, but they will also place him in an awkward position, since he didn't act on it, and as a result the said little girl went missing. And that despite the fact that the airport exits were sealed immediately and all the flights out were cancelled.
Now, all he can do is co-operate with his partner Faith Mitchell, his boss Amanda Wagner, who placed him in that position, and dozens of other cops from different states, in order to find out what the final destination of the abducted girl was and discover who's really responsible for the crime. His feelings of guilt will cloud his judgment, but they will not stop him from working hard and fast to save the day.
This is an action-packed story that will surely offer moments of pure reading pleasure to every crime fiction fan.