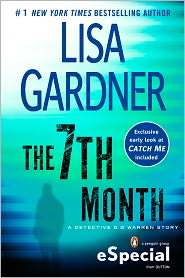 The 7th Month
came out only as an eBook and as I read in the net this is the first ever short story that Lisa Gardner has written, whose last novel
Catch Me
I've reviewed recently.
The 7th Month was released just a few days before the latter and as the title suggests the author's heroine, D.D. Warren, is in the seventh month of her pregnancy. As we soon find out being in that condition makes her feel kind of unhappy. D.D. loves to be on the move, to be active, to hunt and capture killers, and now that, whether she likes it or not, she's stuck in an office in Boston P.D. doing nothing much, she seems lost. Thinking too much; this is her problem these days. When you don't act, you think, and she sure has a lot to think about. D.D. when she has to fight crime, to face dangerous situations, she always comes on top. But when she has to cope with domestic issues, like settling down at last and starting a real family, well, then she feels at a loss. Alex, the father of her unborn child, that wonderful man that never pressures her into doing things she doesn't like, and who doesn't ever interfere with her professional life, the man that understands her like no other, has just asked her to move in with him, and she doesn't know what to say. And the biggest problem is that he wants her answer today. Today? Isn't that a bit too soon? And what is she supposed to do?
In walks Donnie Bilger, an executive producer, who, if momentarily, manages to save her from her thoughts and her big dilemma. Bilger wants to hire a detective as a consultant for a movie project. The money he offers is way too much and thus, D.D., with her boss' approval, decides to take the job herself, since now she has to think about the future of her child as well. As she's to find out they need her right away, that very same night, since the previous consultant, a retired cop, has put on a disappearing act.
When she finally arrives at the place where the movie will be shot, a cemetery, the night has fallen and it's freaking cold. Things however will not exactly play out the way she expected them to. On her way there she was looking forward to a somewhat peaceful, but well-paid shift, but arriving at the scene she will find herself in the middle of mayhem and chaos, in the epicenter of a criminal cyclone that will include: aspiring actors, cold-blooded killers, Russian mobsters, money laundering and so forth. As it seems, wherever she goes trouble follows. But maybe, just maybe, something good will come out of this messy situation she found herself in, at the end.
A well-crafted story with a few twists and turns and some surprises and the manual of a good assassin as an added bonus. A short, but nevertheless enjoyable read.