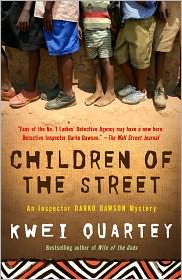 Children of the Street
is one of those novels that are not so easy to read. Not because of the writing, which is excellent, but because of the subject matter, which is as bleak as it can get.
If I could use just one word to describe this book I would say that it's a document; the document of a harsh and heart-breaking reality in a brutal place.
The main protagonist in this story is Inspector Darko Dawson, who works for the police force of Ghana's capital city, Accra. Darko is one of those rare or rather unconventional creatures that really care about what goes on around them, and who sees the world as it truly is and not as he wished it to be. And this world is cruel. Accra may be a big cosmopolitan city, but behind its sometimes bright picture lies a somewhat grim reality. And it's exactly this reality that keeps him constantly on the move, which makes him walk time and again around the dangerous alleys and the most frightening neighborhoods of the city, trying to offer help and protection to the people who need it.
Of course it's not that easy to work under circumstances like these: of utter poverty, where contagious illnesses are all too common and where prostitution is for many people a way of life; the only means they have to survive.
Darko is especially fond of the children of the street, kids with no hope and no future, and kids who are really trying to get themselves out of the gutter and live to see a better day. So when one of those kids is found dead outside a slum, killed in a brutal way, he's more determined than ever to find out who the killer is.
His investigations will lead him again and again from one dead end to the next, but during this arduous journey into the dark heart of the city, he'll come to discover a lot of its heinous secrets; secrets that will trouble his soul for a long time to come. Accra, his city, seems to be nothing more than a desperate place, inhabited by desperate people. And it's also a place where the men who have the means always get their way. During his search for the truth he will meet with young prostitutes and gang members, with pimps and black marketeers, and he will come in contact with a few philanthropists, who seem to hide too much evil and spite behind their bright smiles. Wherever the road leads him though, whatever he sees and finds out, he'll never stop looking for the truth. The children of the street are his children and he'll do anything to save them or at the very least protect them from the evil that lurks out there.
A great novel about a country, or even a continent, that's trying hard to resist the ill fortunes of the modern times, but which also, more than anything else, is in deep pain, always suffering from one hardship or another.