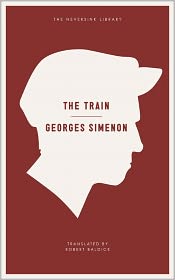 Georges Simenon became famous for his crime novels, in which one of the most celebrated detectives of all times, Inspector Maigret was called upon to solve various mysteries time and again.
The Train
though is not a crime novel, but a kind of a love story that takes place during the Second World War.
The protagonist Marcel Féron lives with his family in a small provincial town when the invasion by the German Army begins, so with the war at their doorstep they, like it or not, have to flee to safety. Thus they board a train full of refugees that will hopefully bring them to the south of France.
The family though is separated from the very beginning and his wife and kids end up in one carriage and him in another. They meet every now and then, but as the time goes by, that doesn't happen too often anymore. And at some point they lose each other altogether.
Marcel will continue his south bound journey, during which he will come to meet a beautiful and mysterious woman, all dressed in black, that goes by the name of Anna, and with whom he'll begin a somewhat odd love affair, while his family is probably at some faraway place. Anna, who as the author points out, didn't need words and did not like them, obviously has a lot of secrets, which she's not willing to share, while he, on his part, is not that interested to find out. Besides he thinks that their meeting is nothing more than a secret rendezvous with fate.
As they say though, all good things come to an end, and so will their relationship. Their roads will drift apart and he'll go back to the place where he came from; feeling nor sad nor defeated, but glorious and happy, since he's been able to live a big adventure and come out of it unscathed and, in a way, a better man. As for her, she'll follow her own destiny; she'll walk in beauty and in danger.
This is a lovely book, with beautiful prose and a masterful analysis of the soul, which offers the reader a brief but fruitful journey into the landscapes of war and love.