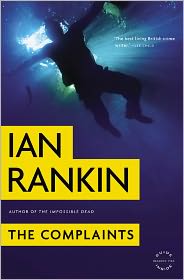 It feels kind of strange when you get into your hands a novel by Ian Rankin in which the main character is not good old detective Rebus. However, Rebus or not, this is yet another fine crime novel by one of the best authors of the genre.
The main characters in this story are Malcolm Fox, who leads the Complaints & Conduct department of the Edinburgh police force, widely known as
The Complaints
, and Jamie Breck, a cop who is suspected of being a member of a pedophile ring. Having just brought to its conclusion a very difficult case Fox feels utterly exhausted, but there's no time for him to take a rest. He has to find out what is going on with Breck and help out his alcoholic sister as well, who's boyfriend have started abusing her yet again.
Trying to find a balance between his professional and personal lives he seems to be moving back and forth all the time, and that just seems to be tearing him apart. Sometimes he even thinks that he doesn't have a life; not really. With his sister being who she is and his father in a facility for the elders, with no love life at all and his everyday battle with the department politics, he seems to be at a dead end. But, he keeps going. And in this he looks just like Rebus. He moves all over the city, from end to end, and he visits construction sites, pubs, casinos and some underworld joints, working hard to figure things out, until, all of a sudden, he comes to realize that someone is trying to frame him for a crime. Who is he though? And why does he target him? His career seems to be hanging on a thin thread and he becomes more suspicious by the minute. He no longer knows who to trust. In the end he'll get all the help he needs from the most unlikely source, and the two of them together, will do everything they possibly can to bring the truth to light.
While all that is happening, a successful businessman simply vanishes from the face of the earth, or rather the sea, and everyone thinks that he committed suicide, since he suddenly lost all his fortune because of the collapse of the economy. Fox accidentally bumps into his case and thinks that there's more to his disappearance than what at first meets the eye. The author, given the chance, talks excessively about the problems of the modern Scottish society: the extreme poverty, the high rates of crime and unemployment, the alcoholism.
The element of love is not absent from this story, or should I say, the element of unfulfilled love, as Fox meets an attractive woman that keeps herself more than busy working on cases that have to do with pedophilia and child pornography , and whom awakens in him some long forgotten feelings. He comes to believe that in her he met a sister soul, someone who can really get him; however both of their lives are so complicated, and the baggage they carry from the past so heavy that is virtually impossible to make things work; unless, of course, life has different plans for them.
The Complaints is a well crafted novel, which the fans of the good writer will surely enjoy. As it seems, there's life after Rebus after all.