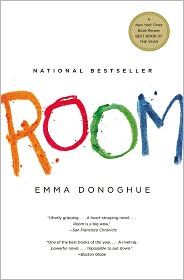 Room
is one of those books that absolutely any writer would be proud to have written. If I'd had to describe it with just one word I'd say: Amazing! It is simply and truly an amazing novel that can make you smile and weep at the same time; that can make you think about all the blessings in your life.
I'd dare say that Emma Donoghue is a master storyteller as she takes a depressing subject matter and makes out of it a story that can be read or rather felt with joy.
The all-seeing all-tell narrator right here is Jack; a five year old boy that has never spent a single moment of his short life in the outside world, as he was born in captivity. His father is someone that both he and his mother refer to as old Nick. Nick abducted his mother many years before and since then she's been living in the soundproofed room. At first she was all alone and wanted to die, but then Jack came along and decided to live.
Jack is raised in a completely sterile environment; he seems to live in a fairytale world. A world created by his mother in order to protect him from the idea, or the dreams, of a freedom that is not about to come. His only connection to the outside world is the television; though he believes that everything he sees there is not true, apart from Dora, his very best friend. He also truly thinks that apart from himself, Dora, his mother and old Nick that there are no other people in the world. How could he think any different from the moment that he doesn't really know that there's a whole universe out there? He looks at the clean or clouded sky from the skylight; he looks at the stars and the moon in the night; but he considers all that part of the scenery; an extension of the room.
Despite all that Jack is really happy, because he has his mother, who's all the time right there beside him, someone who knows everything apart from the things she can't remember. However, she's deeply sad, and as time goes by she starts to hate herself, for keeping the truth from the boy. It is time to put things right and the only way she can do that is by finding for them a way to escape. She tried that once before, when she was all alone, and failed, but now she has no choice but to succeed or else. To do that though she needs Jack's help, so she starts talking to him about the outside world, she tells him all the things she left behind; or most of it anyway. And she's trying to prepare him as much as she possibly can for the big escape. Jack listens to her carefully as she explains how their life is going to be inside the Out and he smiles. He thinks he understands it all, since when he was a little kid he used to think like a little kid, but now he's five and knows everything.
However, the more they talk about it the more confused he gets. The only world he knows is his room; he doesn't want to leave it; never mind the fact that he spends most nights sleeping in the closet. No, he wants to stay. And that makes his mother angry. For the first time ever she treats him hard. He has to do what he's told to save their selves, and that is that. Jack, scared and brave at the same time (or scave; one of his sandwich words), has no other option but to obey. And it's exactly then that their real adventure begins.
This is one of those novels that grab you by the throat and never let you go from page one until the very end. It is finely crafted, with a very good story and tons of humor that manage to make light reading out of a serious issue. The author talks in an exquisite way for the big tragedies in life; about the innocence of a child's heart; for our psychological powers, which now and again fail us; about the real play, outside in the fields that can only make us stronger.
Emma Donoghue, an Irish woman living in Canada, seems to follow in the footsteps of her country's great storytellers, but not only that; she also seems to be creating her own paths into a world full of beautiful, though sad at times, stories.