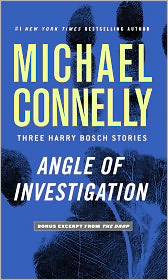 This short story collection
that came out only as an eBook is better than
Suicide Run
, which I reviewed recently, since not only the stories are more interesting but also because it gives the reader a chance to get to know better Connelly's detective Bosch.
In Christmas Even Bosch and his partner Jerry Edgar are called to investigate a not so common death. The scene of the crime, if ever there was one, is a pawnshop that belongs to a man of Russian origins. According to him his shop has been victimized by a burglar three times in the past and he's quite certain that the dead man was behind those crimes. How did he get in though and what was it that killed him? Harry will get the answers to these questions with no difficulty at all. But now, and most importantly, he also has to find out who killed him. It's Christmas Eve. All his colleagues are in a hurry to call it a day and go home, but he knows that he will never get peace of mind if he doesn't solve the riddle. So he'll start wandering from one place to the next, arresting people and posing questions until he reaches his goal. At the same time, the accidental recovery of a stolen saxophone will bring back to him memories from the Vietnam War and that's exactly when one will be able to take a better look into his psyche.
The story in Father's Day somehow reminds us of an episode of CSI Miami in which something similar has happened. A fifteen month old boy is found dead in his father's car. The cause of death is heatstroke and now it falls to Bosch and his partner Ignatio Ferras to discover whether it was an accident or rule it a crime. The child was handicapped and in cases like this no one can be certain about anything.
Bosch takes a journey into the past in Angle of Investigation. The year is 1972 and he is just starting his career as a cop in the LAPD, when he and his partner-mentor Ron Eckersly are ordered to visit the house of a woman who, according to her daughter who lives in a different town, has been missing for a few days now. As it turns out the latter had every reason to worry since the two of them will discover the corpse of the woman in her bathtub along with that of her dog. That case has never been solved and now Bosch, who works along with Kiz Rider on the cold case division, is more determined than ever to solve the case and bring the truth to light.
Three nicely crafted tales by one of the best American crime fiction authors.