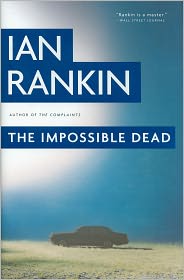 One could say that it is sometimes a blessing to be a British crime fiction author, since the local publishers do not ask their writers to deliver a new book every six months, and thus the standards one has come to expect of them remain high as ever.
Ian Rankin is one of those "lucky" authors and so we are not surprised to receive yet another great novel from him. In
The Impossible Dead
his main protagonist is inspector Malcolm Fox whom we've first met in his previous novel,
The Complaints
(read my review
here
), who's now called to investigate whether three cops of the Kirkcaldy precinct have in any way facilitated the actions of one of their colleagues, who's been found guilty in a court of law for misconduct. Paul Carter, the policeman in question, was accused of asking favors of a particular kind from three women in exchange for not arresting them for some minor misdemeanors.
From the very first moment that Fox and his partners, Joe Naysmith and Tony Kaye, arrive in town, they can feel a cloud of suspicion and enmity settle all over them. Of course that is hardly surprising since not a single cop likes the members of his team, because of what they do; and that is, in their eyes, work against their own people. One thing that's kind of strange, or rather surprising though, is that there's more to this case than what at first meets the eye. For starters, the man who gave Carter in was his uncle Alan, a retired cop. Then there are the connections of this said uncle with the criminal elements of the city. And, then come the facts of the distant past that suddenly spring to life during the investigation; facts that have taken place in Scotland back in 1985, a year of mayhem and relevant chaos, and which are in some strange way connected with what is happening today. Finally are the orders; the orders that come from the higher ups and who demand of Fox and his team to back off this case, as some ghosts are better to remain buried; but which ghosts and why?
Rankin, using a simple investigative case as his vehicle, drives the reader back to the past and talks to him in a rather straightforward way about the widely unknown, or maybe forgotten, history of his country. Through the narration we get to learn about the student unrests of the 80's, the nationalist movement and the communists of the era, about the armed groups and the revolutions that never came to be. And returning back to the present we find out some things about modern day Scotland, a place where poverty and unemployment are widespread, where alcoholism, drug addiction and crime, as well as corruption rule the day.
The author paints a world that is bleak, on the brink of destruction, but which, thankfully, is not quite there yet. And he also paints a world where hope for a better future is still, if barely, alive. Fox reminds us in one way or another of Rebus, but he is special in his own way. He doesn't drink, even though his sister is an alcoholic; he likes to be alone, even though he seems to desperately seek the company of a woman; and he does everything he possibly can to help those, who willingly or not make his life difficult. Of course he is not perfect, he has his flaws; but it's exactly these flaws that make him look so deeply humane.
This is one of the best crime novels of the year. Just read it.