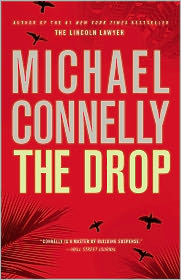 Harry Bosch is back with
The Drop
, and even though he feels kind of rusty, he's as good as ever. The good detective is still working in the open-unsolved unit and as we find out right from the start the higher ups have decided to keep him in the Los Angeles police force for four more years, which in real time translates into thirty-nine months. Harry, who does not wish under any circumstances to retire, receives the news as a blessing. It's not that he wouldn't be able to live outside the force; it's just that solving crimes is maybe the only thing he can to do really well.
His current partner is David Chu and the case they are called to investigate is that of one Lily Price, a woman's who was raped and brutally murdered back in 1989. At the beginning the case looks simple, since now, using the new technologies, they are able to extract the DNA of the perp, from traces of blood that were found on the victim's neck. The suspect has a history when it comes to crimes of this nature, but -and this is as big a But as you'd ever be able to get- he doesn't seem likely to have committed this particular crime, since when it happened he was only eight years old. And now the questions are: How did his blood get there? And, who's the real perp? As Bosch and Chu are about to start looking into it, a new case lands all of a sudden into their hands: the apparent suicide of the son of a councilman, with whom Harry clashed head to head more than once in the past. Given their ugly history he wonders as to whether it would be better if someone else handled the case, but then he learns that his involvement came as a direct request from the said councilman.
So, having no word in the matter, the two partners head for the hotel where the man's body was found. He'd supposedly jumped from his room's balcony. This, at least at first, looks a simple case as well. However a few minimal clues that emerge here and there, some details that just don't fit, as well as some facts that soon come under Harry's attention, just complicate it. Thus, where he expected to sail through the case he finds himself wandering through a labyrinth made of secret and lies, and not before too long he comes to realize that he can't really trust anyone, since time and again people betray him.
In the end the only person that he can really lean on, but also truly have faith in, is his daughter Maddie, who's decided to follow in his footsteps and become a cop. Harry is more proud of her that he could ever imagine himself to be and little by little he starts to train her for the future she chose. The more he trains her though, the more he feels like her ingenuity surpasses his, while her perception just about everything seems to get better and stronger all the time. Thus time and again she doesn't hesitate to point out to him some things he failed to notice, his small omissions. In the meantime a new woman comes into his life and he feels that something good could happen with her; something good and lasting; but not when things are as complicated as they now are.
As Harry will struggle to solve these cases he'll have to, willingly or not, take a good look into his life and way of thinking, and maybe, just maybe, put some water in his wine, soften up a little, in order to give the people who worth it their due or simply a second chance.
This is one of the best books Michael Connelly has written with this protagonist in the epicenter of the action. It reminds us of a crime novel and the story of a psyche at the same time. I'm sure the fans will love it, but this also offers the opportunity to the readers who have never met Bosch before to get to know one of the best fictional detectives out there.