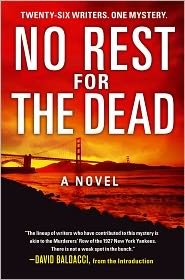 Twenty six authors came together in order to write an action-packed thriller and the result is
No Rest for the Dead
. The original idea was to create a short story collection, but since this is not an especially commercial genre and the proceeds were meant to go to charity, it has been decided that it'd be better if all of them worked together to write a novel.
If you asked me I wouldn't say that this book is something special, however it is a well-crafted book that moves at a fine pace and which manages to keep the reader's interest alive from first page to last. And it is funny, in more than one ways; especially when, let's say, author number one, decides to make the life of author number two a little bit hard, by driving the story in a completely different direction from the one at hand, and thus make him or her come up with some answers in questions that were not there in the first place. As a result there are many twists and turns and just when one thinks that he's found the solution to the riddle, something turns up that brings things upside down.
But let's take things from the start, or rather from the end; today. Following the last instructions or, maybe we should say, respecting the last wishes of Rosemary Thomas, a curator of a San Francisco Museum, her closest friends and relatives, as well as some other people who were in one way or another connected with her, meet at her workplace to celebrate the anniversary of her death. Rosemary has been tried, found guilty and executed ten years before for the murder of her husband Christopher. All the evidence at the time was overwhelmingly against her and no one, or almost no one, had any doubts that she committed the crime. Two men though were not so sure that she was guilty. The first one was Hank Zacharius, a journalist, who from the very beginning believed in her innocence and did everything he possibly could to help her, while the second was Jon Nunn, the detective who investigated the case and who was responsible at large for securing her conviction. That case has haunted his life ever since and now, as the anniversary of her death is approaching fast, he's determined more than ever to put his doubts at rest. The truth will set you free, people say, but Nunn is not that certain that that applies in this case, since it was yesterday's truths, the ones that he could sense but never dared to investigate that caused his fall. The road to redemption will prove long and painful for a lot of the characters in this unique, in a certain way, novel that travels the reader into the dark corners of some people psyches, but also to some special places in the world of art.
The people who worked on this project are: Jeff Abbott, Lori Armstrong, Sandra Brown, Thomas Cook, Jeffery Deaver, Diana Gabaldon, Tess Gerritsen, Andrew F. Gulli, Peter James, J.A. Jance, Faye Kellerman, Raymond Khoury, John Lescrorat, Jeff Lindsay, Gayle Lynds, Phillip Margolin, Alexander McCall Smith, Michael Palmer, T. Jefferson Parker, Matthew Pearl, Kathy Reichs, Marcus Sakey, Jonathan Sandlofer, Lisa Scottoline, R.L. Stine, Marcia Talley, David Baldacci (introduction), Lamia J. Gulli (editing).